SUZUKI DF2.5 Outboard Engine
The Suzuki DF2.5 is a small, portable outboard engine that is designed for use on small boats, dinghies, and other watercraft. Here are some key features and specifications of this model:
Power and Performance: The DF2.5 is a 4-stroke engine that delivers 2.5 horsepower. It features a single-cylinder design and a lightweight, compact construction that provides reliable power and fuel efficiency.
Size and Weight: The DF2.5 is one of the smallest and lightest outboard engines on the market, weighing only 29.5 pounds (13.4 kg). Its compact size and lightweight design make it easy to transport and store.
Control and Convenience: The DF2.5 is designed for ease of use and comfort. It features a comfortable, easy-grip carrying handle and a convenient oil change system. The engine also has a forward-neutral-reverse gear shift lever and an easy-to-use throttle control.
Reliability and Durability: Suzuki is known for building reliable and durable outboard engines, and the DF2.5 is no exception. It features a water-cooled engine that is designed for long-term durability and reliability. It also has a corrosion-resistant construction to help it withstand the harsh marine environment.
Maintenance and Service: The DF2.5 is designed to be easy to maintain and service. It has a large, easy-to-access oil drain plug and oil filter, and an easily removable engine cover for quick access to the engine compartment. Suzuki also offers a range of maintenance and service options to help you keep your engine running smoothly.
Overall, the Suzuki DF2.5 is a reliable, efficient, and convenient outboard engine that is perfect for small boats and other watercraft. Its compact size, lightweight design, and easy-to-use controls make it a great choice for both beginners and experienced boaters alike.
RECOMMENDED TRANSOM HEIGHT (INCHES)
S: 15
FUEL DELIVERY SYSTEM
Carburetor
PISTON DISPLACEMENT INCHES (CC)
4.1 (68)
BORE X STROKE INCHES (MM)
1.89 x 1.50 (48 x 38)
OPERATING RANGE (RPM)
5250 – 5750
OIL PAN CAPACITY QUARTS (LITER)
.32 (.3)
IGNITION SYSTEM
Digital CDI
TRIM POSITION
4 Tilt Pin Positions
STANDARD PROPELLER
3 x 7.5 x 5.5
N/A
LOW EMISSIONS WITHOUTTHE SACRIFICE
The California Air Resources Board has given the DF2.5 a 3-star rating in ultra-low emissions, making this not only one of the most powerful engines in its class, but also one of the most efficient.
SUZUKI'S DF 2.5" SMALL IN SIZE BUT BIG IN FEATURES
The Suzuki DF2.5 portable outboard is the smallest Suzuki 4-stroke to date. Weighing just 30 pounds, the DF2.5 is the lightest Suzuki 4-stroke motor ever built. Suzuki is also proud to note that the DF2.5 meets the rigorous EPA 2010 and CARB 3-Star Ultra Low emissions standards. A 2.5 HP single cylinder OHV 4-stroke engine, with 4.15 cu. in. displacement, generates plenty of power for small tenders and inflatables. It features easy-to-pull recoil starting with Suzuki Pointless Electronic Ignition. No battery is required for this remarkably simple and reliable system.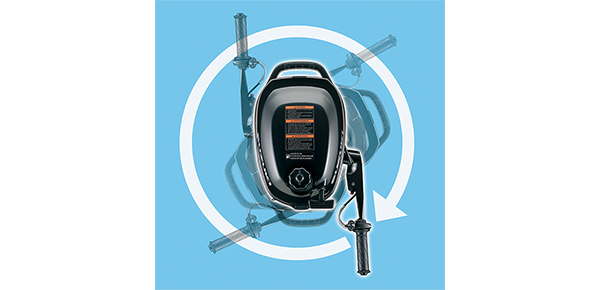 HUMAN ENGINEERING DELIVERS USER-FRIENDLY OPERATION
An outboard designed with user-friendly features, is an outboard that lets you enjoy more of your time on the water. That's why the DF2.5 is equipped with a twist-grip throttle for easier operation from different sitting positions, and full-turn 360° teering, which is advantageous when maneuvering in tight places and also delivers superior thrust when backing. Operation is quiet and smooth, and the engine is water-cooled for increased durability and dependability. And a large capacity integrated fuel tank holds one-liter of fuel, which provides an estimated operating time of almost an hour on a full tank. Other features include steering and throttle tension adjustor systems, F-N shifting located on the starboard side just where you'd expect, and an oil level indicator conveniently located on the port side for easy oil checks.
MORE CONVENIENT FEATURES
Removed from the boat, the DF2.5 is balanced, lightweight, and easy to manage due to its large carrying handle. The integrated handle is located on the back of the engine cowling where it also assists when tilting the engine. And there's four-position tilting for matching the outboard with individual boat and operating conditions.
ENVIRONMENTALLY FRIENDLY, ECONOMICAL OPERATION
Suzuki's four-stroke technology squeezes more from every tank of fuel than a comparable two-stroke outboard. Four-stroke technology also delivers clean operation that allows the DF2.5 to gain CARB 3-Star Certification for Ultra Low Emissions by the California Air Resources Board.