SUZUKI DF20A Outboard Engine
The Suzuki DF20A is a powerful and efficient outboard engine that is designed for use on small to medium-sized boats. Here are some key features and specifications of this model:
Power and Performance: The DF20A is a 4-stroke engine that delivers 20 horsepower. It features a 2-cylinder design and a lightweight, compact construction that provides reliable power and fuel efficiency.
Size and Weight: The DF20A weighs 97.0 pounds (44 kg), making it relatively lightweight for its power output. Its compact size and lightweight design make it easy to transport and store.
Control and Convenience: The DF20A is designed for ease of use and comfort. It features a comfortable, easy-grip carrying handle and a convenient oil change system. The engine also has a forward-neutral-reverse gear shift lever and an easy-to-use throttle control.
Reliability and Durability: Suzuki is known for building reliable and durable outboard engines, and the DF20A is no exception. It features a water-cooled engine that is designed for long-term durability and reliability. It also has a corrosion-resistant construction to help it withstand the harsh marine environment.
Fuel Efficiency: The DF20A features Suzuki's Lean Burn Control System, which adjusts the fuel-to-air ratio for maximum fuel efficiency. This helps to reduce fuel consumption and lower emissions.
Maintenance and Service: The DF20A is designed to be easy to maintain and service. It has a large, easy-to-access oil drain plug and oil filter, and an easily removable engine cover for quick access to the engine compartment. Suzuki also offers a range of maintenance and service options to help you keep your engine running smoothly.
Overall, the Suzuki DF20A is a powerful, reliable, and efficient outboard engine that is perfect for small to medium-sized boats. Its compact size, lightweight design, and easy-to-use controls make it a great choice for both beginners and experienced boaters alike.
TWENTY HORSES.AT YOUR COMMAND.
Our DF20A represents a unique leap forward in the way that power is converted into performance. Through extensive testing, we have engineered this small footprint motor to make the most of every ounce of horsepower. Beyond being ultra-light, the DF20A EFI is also among the most technologically advanced portable outboard motors on the market.
CLEANER, MORE EFFICIENT OPERATION
Suzuki utilizes a number of its advanced technologies to deliver cleaner, more efficient operation that conforms to the Recreational Craft Directive (RCD) — Directive 2003/44EC of the European Parliament and of the Council, and has received three-star ratings from the California Air Resources Board (CARB).
SUPERIOR FUEL ECONOMY ꟷ SUZUKI'S LEAN BURN CONTROL SYSTEM
First introduced on our DF90A/80A/70A, the Suzuki Lean Burn system is an intelligent system that monitors engine performance and operating conditions to predict fuel needs and deliver a leaner fuel mixture to the engine. The system delivers remarkable improvements in fuel economy over the engine's entire operating range. This system is found on 14 Suzuki models from the DF9.9B up to the flagship DF300A, providing boaters with top-level fuel economy at all operating speeds.

NEW GENERATION FUEL INJECTION SYSTEM
These are the first outboards in their respective classes to offer fuel injection, and the DF20A/15A/9.9B engineering team did an incredible job designing the outboard without adding unneeded bulk or weight. All new components, including the inline high-pressure fuel pump, fuel cooler, vapor separator, fuel injectors, and a new throttle body, were designed as compact and lightweight as possible. The entire system was designed to fit in as little space as possible. The system operates battery-less, which is another industry first in the 14.7kW (20PS), 11.0kW (15PS) and 7.3kW (9.9PS) class. While fuel injection systems normally require battery power to deliver quicker starts, smoother running performance, and more acceleration in all conditions, Suzuki's Battery-Less system does this all without the need of battery power.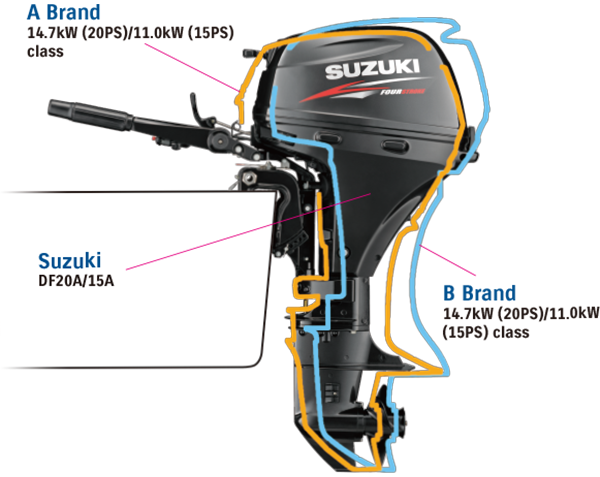 LIGHT WEIGHT & COMPACT
The DF20A/15A's lightest in class title is the result of a complete redesign of parts and components, striving to create the smallest and lightest parts possible without compromising integrity. Succeeding in this, our engineers have delivered an outboard that even when configured with a power tilt system still weighs less than the any other outboard in the 4-stroke 14.7kW (20PS) /11.0kW (15PS) class.
EASY TO USE
Along with better fuel economy, fuel injection also offers easier and more dependable starts in nearly any operating condition or environment. While our carburetor models are some of the finest outboards available, fuel injection gives these outboards even smoother operation with reduced engine vibration.
EASY START RECOIL STARTER
These outboards are equipped with starters specially designed with very light recoil loads. Combining the easy to pull starter with fuel injection makes starts exceptionally easy for almost everyone.

SUZUKI'S ANTI CORROSION SYSTEM
Suzuki protects the outboard's exterior from harmful corrosion with its own specially formulated anti-corrosion finish. Applying the finish directly to the outboard's aluminum surface, allows maximum bonding of the finish to the surface to increase durability and help protect parts that are constantly exposed to saltwater.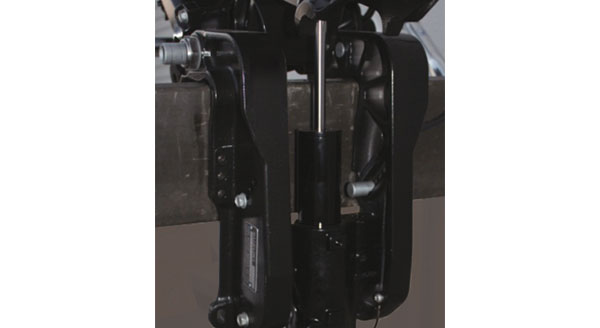 POWER TILT MODELS AVAILABLE
A number of portable models are now available with a power tilt system that provides smooth tilting of the outboard. The system offers greater convenience and improved easier operation (DF20AT/9.9BT, DF20ATH/15ATH).