SUZUKI DF6A Outboard Engine
The Suzuki DF6A is a small, lightweight, and portable outboard engine that is designed for use on small boats, dinghies, and other watercraft. Here are some key features and specifications of this model:
Power and Performance: The DF6A is a 4-stroke engine that delivers 6 horsepower. It features a single-cylinder design and a lightweight, compact construction that provides reliable power and fuel efficiency.
Size and Weight: The DF6A weighs only 57.3 pounds (26 kg), making it one of the lightest 6-horsepower outboard engines on the market. Its compact size and lightweight design make it easy to transport and store.
Control and Convenience: The DF6A is designed for ease of use and comfort. It features a comfortable, easy-grip carrying handle and a convenient oil change system. The engine also has a forward-neutral-reverse gear shift lever and an easy-to-use throttle control.
Reliability and Durability: Suzuki is known for building reliable and durable outboard engines, and the DF6A is no exception. It features a water-cooled engine that is designed for long-term durability and reliability. It also has a corrosion-resistant construction to help it withstand the harsh marine environment.
Fuel Efficiency: The DF6A features Suzuki's Lean Burn Control System, which adjusts the fuel-to-air ratio for maximum fuel efficiency. This helps to reduce fuel consumption and lower emissions.
Maintenance and Service: The DF6A is designed to be easy to maintain and service. It has a large, easy-to-access oil drain plug and oil filter, and an easily removable engine cover for quick access to the engine compartment. Suzuki also offers a range of maintenance and service options to help you keep your engine running smoothly.
Overall, the Suzuki DF6A is a reliable, efficient, and convenient outboard engine that is perfect for small boats and other watercraft. Its compact size, lightweight design, and easy-to-use controls make it a great choice for both beginners and experienced boaters alike.
RECOMMENDED TRANSOM HEIGHT (INCHES)
S: 15 L: 20
FUEL DELIVERY SYSTEM
Carburetor
PISTON DISPLACEMENT INCHES (CC)
8.4 (138)
BORE X STROKE INCHES (MM)
2.44 x 1.81 (62 x 46)
OPERATING RANGE (RPM)
4750 – 5750
OIL PAN CAPACITY QUARTS (LITER)
.74 (.7)
IGNITION SYSTEM
Digital CDI
ALTERNATOR
12V 6A (Optional)
TRIM POSITION
5 Tilt Pin Positions
STANDARD PROPELLER
3 x 7.5 x 6.5
PROPELLER SELECTION
6 – 7
TAKE ADVENTUREWITH YOU.
The DF6A is ready for whatever comes next, fully portable and fits nearly any vessel. Swap out how you use your DF6A, whether it's a duck boat or a paddle board. If you don't want to be tied down, this is the engine for you.
A REVOLUTION IN INNOVATION
The DF6 brings 4-stroke performance and efficiency to portable outboards. Compact and lightweight, the DF6 is easy to transport and delivers surprising low- and mid-range torque for quick acceleration.
Knowing that small portables like the DF6 get transported a lot, we set out to design this outboard compact and lightweight to make transporting easier. Not to stop there, we added features that would make its operation easy and more user-friendly. As four-strokes, the DF6 outboard deliver clean, economical operation, and being made by Suzuki, you know it delivers excellent power, performance, and durability.
MORE COMPACT AND MUCH LIGHTER
While maintaining the engine displacement of 138cm3, the conventional design has been overhauled and downsized to realize 1.0kg weight reduction (24.0kg*1). The lighter weight has improved operability.Along with weight reduction, the carrying handle integrated into the lower cover which has been rounded and made easier to hold, and an additional grip at the front further improve its portability.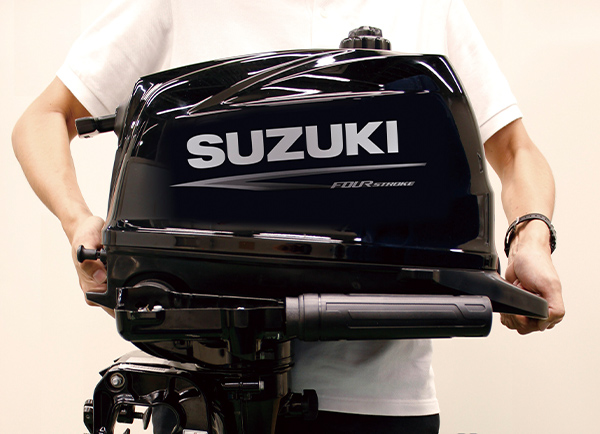 ENHANCED USER-FRIENDLINESS
The overhead integral fuel tank and the new lubricating systems allow transport and storage of the outboard on any of three sides (port, starboard, or front) without leakage of fuel or oil.
Because the overhead fuel tank is placed right above the carburettor, it also allows gravity fuel supply, enabling the engine to start instantly right after filling fuel, even after long-term storage. These features have enhanced its user-friendliness as a portable outboard motor.
LIGHTWEIGHT
In addition to a reincarnated stylish appearance, the newly designed and developed Suzuki DF6A, DF5A and DF4A boast the unrivalled lightweight, 24.0Kg (S-shaft models). The lighter weight has improved portability as well as operability.
OUTSTANDING HANDLE OPERATION
An ease of handling that has enjoyed great popularity. Further improvements to the tiller handle have successfully mitigated vibrations contributing to fatigue and stress when transmitted to the hand during operation. The DF6A, DF5A and DF4A particularly excel at vibration mitigation in the mid-range.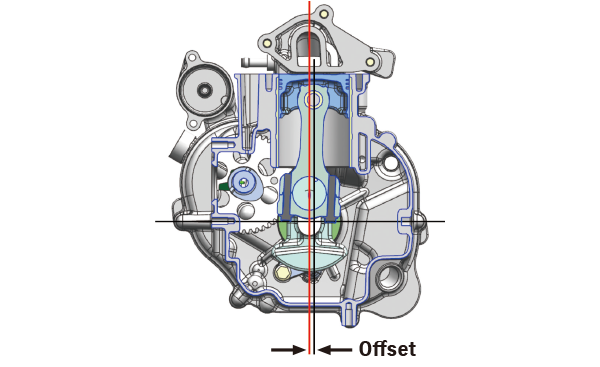 OFFSET CRANKSHAFT
Positioning the crankshaft slightly off center of the cylinder reduces lateral pressure against the cylinder wall as the piston moves up and down in the cylinder. The result is smoother piston movement, which improves operating efficiency.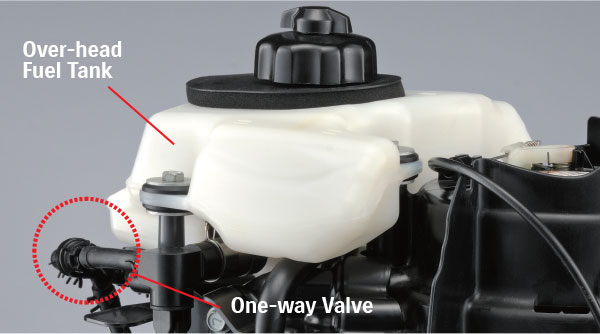 EASY AFTER-STORAGE START
Because the integral overhead fuel tank and one-way valve allow gravity fuel supply, the engine can be started without opening the engine cover, even after long term storage.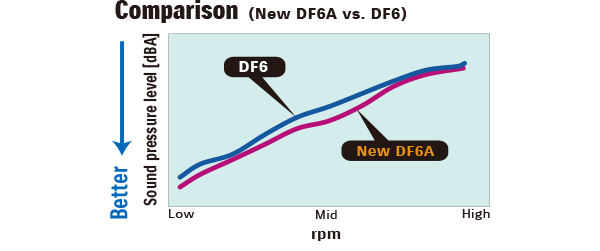 QUIET OPERATION
The low noise level is the result of a silencer, designed to optimize the capacity and shape of the air intake. The new design of the rocker arm and the plane bearing of the crankshaft also help reduce the noise level. We also changed the structure of the parts related to the rocker arm and eliminated its excessive play. In addition, we changed the crankshaft bearing from a common ball type to a plane type.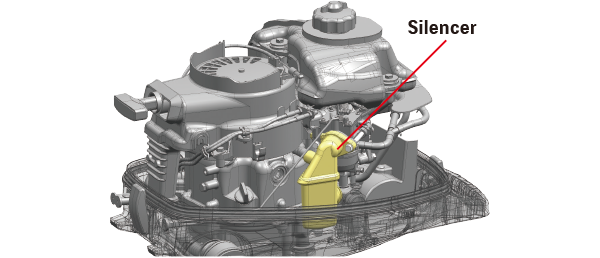 HIGHLY RELIABLE LUBRICATING SYSTEM
The forced lubrication system of the DF6A, DF5A and DF4A has an additional oil passage to the upper and lower crankshaft and connecting rod big end. The addition of a first-in-its-class** oil filter greatly increases the reliability of the lubricating system. Furthermore, the new position of the oil window allows for visual confirmation of the actual lubricating condition.