Yamaha F30 Outboard Engine
The Yamaha F30 outboard engine is a compact and efficient marine engine that is ideal for small boats and fishing vessels. With a displacement of 498cc and a horsepower rating of 30, the F30 is a reliable and versatile choice for boaters who need a dependable engine that can handle a variety of different conditions.
One of the key features of the Yamaha F30 engine is its fuel efficiency. The engine utilizes Yamaha's advanced fuel injection system, which ensures precise and efficient fuel delivery, resulting in improved fuel economy and reduced emissions. This makes the F30 an ideal choice for boaters who are looking to save money on fuel costs and reduce their environmental impact.
In terms of durability and reliability, the Yamaha F30 engine is built to withstand the demands of the marine environment. It features a range of corrosion-resistant materials and coatings, as well as a robust design that helps to ensure longevity and minimize maintenance requirements. Additionally, this engine is backed by Yamaha's industry-leading warranty, providing peace of mind for boat owners.
Handling and control are also key strengths of the Yamaha F30 engine. It features Yamaha's Digital Electronic Control (DEC) system, which provides precise and responsive control over engine speed and direction, as well as smooth and quiet operation. The engine also features advanced hydraulic steering systems, which make maneuvering small boats and vessels easy and intuitive.
F30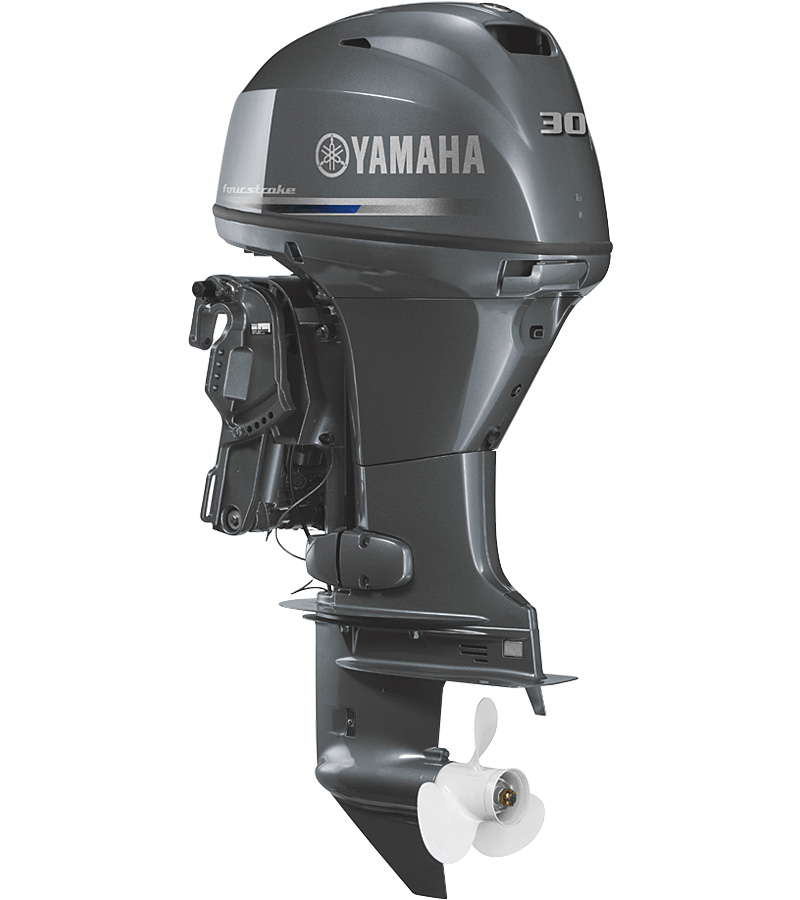 | | |
| --- | --- |
| Engine Type | SOHC, In-line 3 |
| Displacement [cm3] | 747 |
| Bore x Stroke [mm] | 65.0 x 75.0 |
| Max. Prop Shaft Output [kW (ps)] @r/min | 22.1 (30) @5500 |
| Fuel Induction System | Fuel Injection |
| Engine Transom Height[mm (inch)] | S: 414 (16.3), L: 536 (21.1) (*depending on model) |
| Dry Weight [kg] * | 94-106 |
| Starting System | Electric Starter |
| Controls | Remote Control or Tiller Handle (*depending on model) |
| Tilt System | Power Trim & Tilt or Hydro Tilt (*depending on model) |
| Lubrication System | Wet Sump |
| Digital Network | Available |
In addition to its performance features, the Yamaha F30 engine also offers a range of convenience features for boat owners. These include a built-in freshwater flushing system, which makes it easy to flush out the engine after use, as well as a range of maintenance indicators and reminders to help owners stay on top of routine maintenance tasks.
Overall, the Yamaha F30 outboard engine is an excellent choice for boat owners who are looking for a reliable, efficient, and versatile marine engine for their small boats and fishing vessels. With its advanced technologies, durable construction, and responsive handling, the F30 is sure to provide an exceptional boating experience.