YAMAHA VF200 VMAX SHO Outboard Engine
The Yamaha VF200 VMAX SHO is a high-performance outboard engine that delivers an impressive combination of speed, power, and efficiency. With a horsepower rating of 200 and a displacement of 4.2 liters, this engine is designed for serious boaters who demand the very best in terms of performance and reliability.
One of the standout features of the Yamaha VF200 VMAX SHO engine is its advanced design and engineering. The engine is built with lightweight, high-strength materials, and features Yamaha's plasma-fused sleeveless cylinders, which reduce weight and improve cooling. This results in a powerful and durable engine that is also easy to maintain.
The Yamaha VF200 VMAX SHO engine also features an advanced fuel injection system, which provides precise fuel delivery for maximum power and efficiency. The engine also incorporates Yamaha's Variable Camshaft Timing (VCT) system, which optimizes performance and fuel efficiency across the entire RPM range.
In terms of handling, the Yamaha VF200 VMAX SHO engine is designed for precise and responsive control. The engine features a large-diameter propeller and a powerful hydraulic steering system, making it easy to maneuver and steer.
Overall, the Yamaha VF200 VMAX SHO outboard engine is a reliable and high-performance option for boaters who demand both power and efficiency. Its advanced design and engineering, coupled with its advanced fuel injection system and responsive handling, make it an ideal choice for a wide range of boating applications.
VF200 VMAX SHO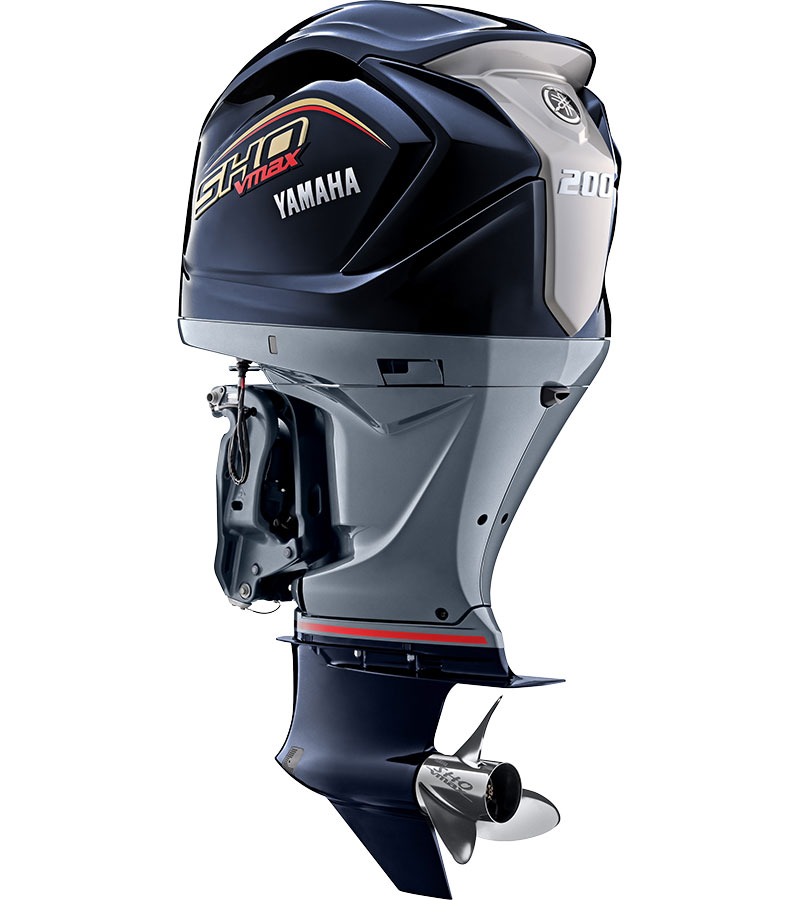 | | |
| --- | --- |
| Engine Type | 24-valve, DOHC, 60 deg. V6 |
| Displacement [cm3] | 4169 |
| Bore x Stroke [mm] | 96.0 x 96.0 |
| Max. Prop Shaft Output [kW (ps)] @r/min | 147.1 (200) @5500 |
| Fuel Induction System | Fuel Injection |
| Engine Transom Height[mm (inch)] | L: 493 (19.4) |
| Dry Weight [kg] * | 247 |
| Starting System | Electric Starter |
| Control System | Mechanical control |
| Tilt System | Power Trim & Tilt |
| Lubrication System | Wet Sump |
| Digital Network | Available |